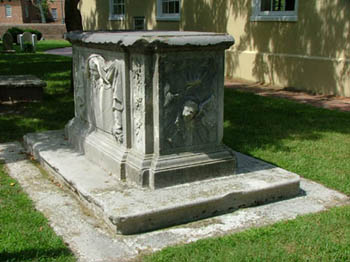 "Scotch" Tom Nelson
Hic jacet
Spe certa resurgendi in Christo
Thomas Nelson,Generosus
Filis Hugonis et Sariae Nelson
de Perith in Comitatu Cumbriae
Natus 20th.die Februarii Anno Domini 1677 Vitae bene geste finem implevit
7th.die Octobris 1745-AEtatis suae 68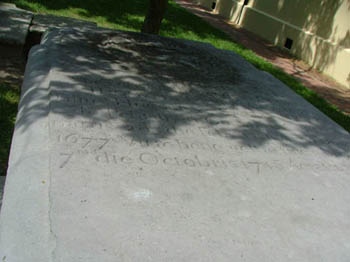 Here lieth
in the certain hope
of being raised up in Christ
Thomas Nelson, Gentleman
Son of Hugh and Sarah Nelson
of the County of Cumberland.
Born on 20th day of February
in the year of our Lord 1677
He completed a well spent life
on the 7th of October 1745
Aged 68.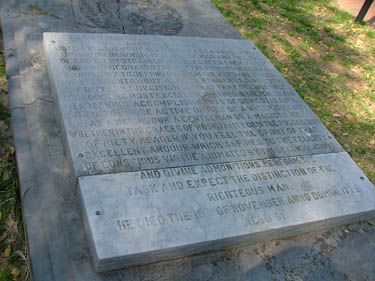 William Nelson
He died the 19th of November Anno Domini 1772. Aged 61.
Here lies the body of the Honourable William Nelson Esquire. Late Resident of His Majesty's Council in this Dominion in whom the Love of Man and the Love of God so restrained and enforced each other and so invicurated the mental power in general as not only to defend him from the vices and follies of his country but also to render it a matter of difficult decision in what part of laudable conduct most excelled whether in the tender and endearing accomplishments of domestic life. As a neighbor, a gentleman or a magistrate. Whether in the graces of hospitality or in the possession of piety, reader if you feel the spirit of that excellent ardour which aspires to the felicity of conscious virtue animated by those considerations and divine admonitions perform the task and expect the distinction of the righteous man.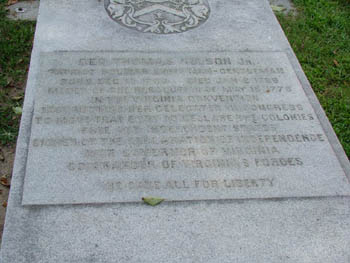 Gen. Thomas Nelson Jr.
Patriot - Soldier - Christian -Gentleman
Born December 16, 1738
Died January 2, 1789
Mover of the Resolution of May 15 1776
in the Virginia Convention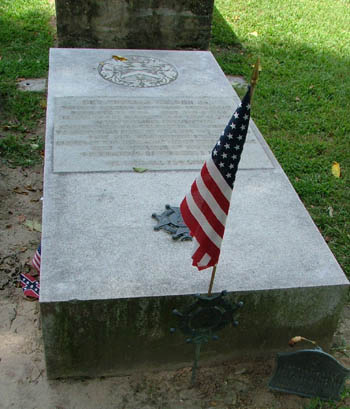 Instructing her Delegates in Congress
To Move that body to Declare the Colonies
Free and Independent States.
Signer of Declaration of Independence
War Governor of Virginia
Commander of Virginia Forces
He Gave All For Liberty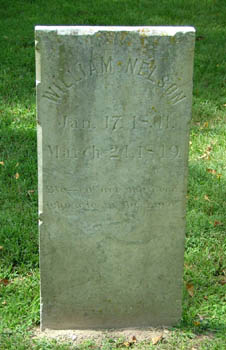 William Nelson
January 17, 1801
March 24, 1849
Blessed are the dead who die in the Lord.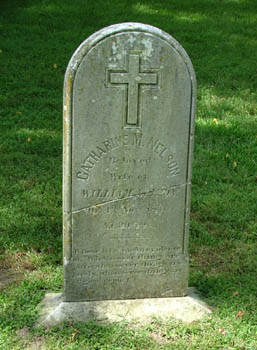 Catharine M. Nelson
Beloved Wife of William Nelson
Died 4th November 1840
Aged 39 Years
Whose life was an evidence of Whatsoever Things are Pure, Whatsoever Things are Lovely, Whatsoever Things are of Good Report.
Catherine Maria Moss was the 1st wife of William Nelson III. She married (1) (John?) Fox.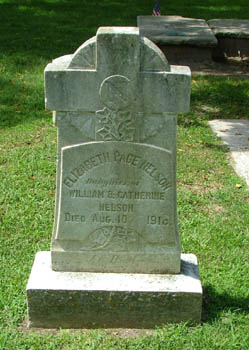 Elizabeth Page Nelson
Daughter of
William & Catherine Nelson
Died August 10, 1918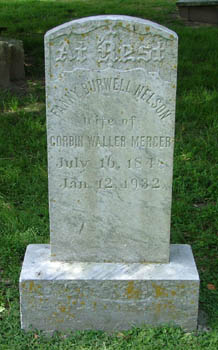 At Rest
Fanny Burwell Nelson
Wife of Corbin Waller Mercer
July 16, 1848
January 12, 1932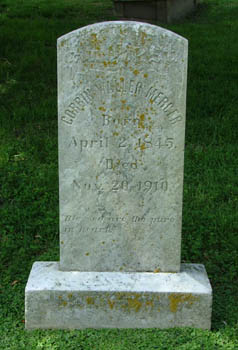 At Rest
Corbin Waller Mercer
Born April 2, 1845
Died November 20, 1910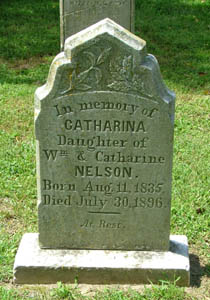 In Memory of
Catharina
Daughter of
Wm & Catharine Nelson
Born August 11, 1835
Died July 30, 1896
At Rest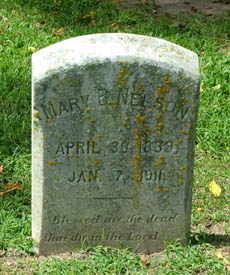 Mary B. Nelson
April 30, 1839
January 7, 1911
Blessed are the dead that die in the Lord.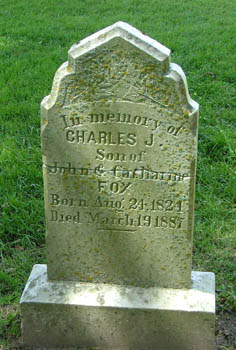 In Memory of
Charles J.
Son of
John & Catharine Fox
Born August 21, 1824
Died March 19, 1887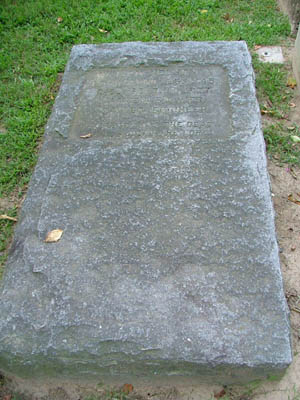 William Nelson
Born April 25, 1845
Died September 10, 1877
Citizen Soldier
Lawyer Engineer
Blessed are the Dead Which Die in the Lord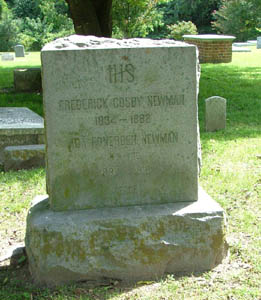 Frederick Cosby Newman
1834 - 1882
Ada Fonerden Newman, his Wife
1837 - 1918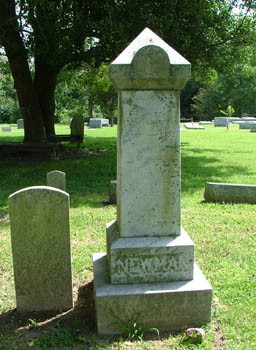 Thomas Newman C.S.A.
1843 - 1902
His Wife Martha S. Newman
1846 - 1882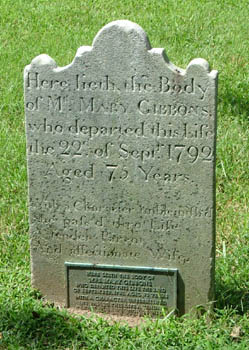 Here lieth the Body
of M. Mary Gibbons
who departed this life
the 22nd of Sept. 1792
Aged 75 Years
With a character unblemished she passed this life a Tender and Affectionate Wife.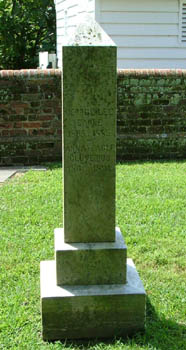 George Lee Eagle
1865 - 1882
Anna Eagle Cluverius
1861 - 1891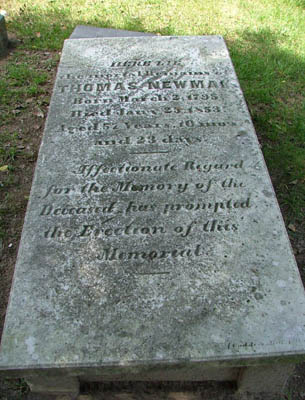 Here lie the
Imortal Remains
Thomas Newman
Born June 6, 1846
Died March 6, 1882
Affectionate Regard
for the Memory of the
Deceased has prompted
the Erection of this
Memorial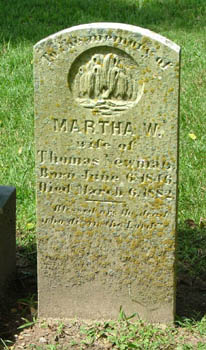 Martha W.
Wife of Thomas Newman
Born June 6, 1846
Died March 6, 1882
Blessed are the dead who die in the Lord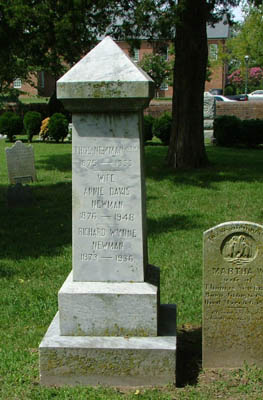 Thos. Newman 6th
1875 - 1933
Wife Annie Davis Newman
1876 - 1948
Richard Wynne Newman
1873 - 1936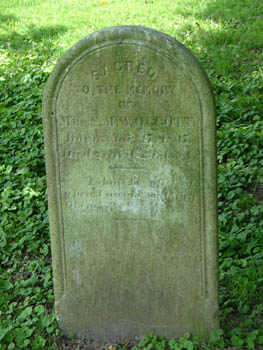 Sacred to the Memory of
(Mrs?) S. (M?) Wolcott
Born November 17, 1837
Died ? 2(?), 18(?)1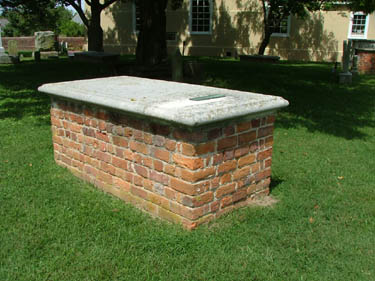 Here lies interred the body of
Mary Sansum
Who departed this life
the 28th of October 1785
Aged 23 Years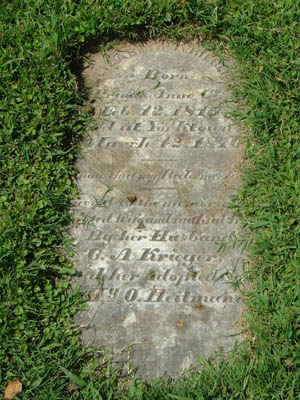 Elizabeth Krieyer
Born Princess Anne Co
February 12, 1815
Died at Yorktown March 12, 1870
I know that my Redeemer liveth
Beloved wife and faithful ?
By her husband G. A. Krieyer
and her Adopted Son ?y O. Heitman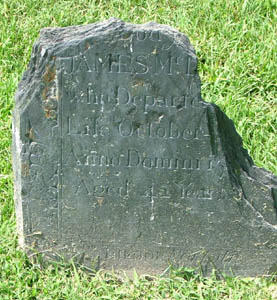 James McL(?)
Who departed this life
October (broken)
Anno Domini
Aged 42 Years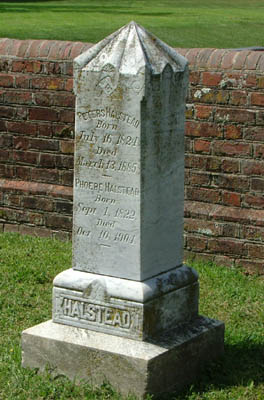 Peters Halstead
Born July 16, 1824
Died March 13, 1885
Phoebe Halstead
Born September 4, 1822
Died October 10, 1904