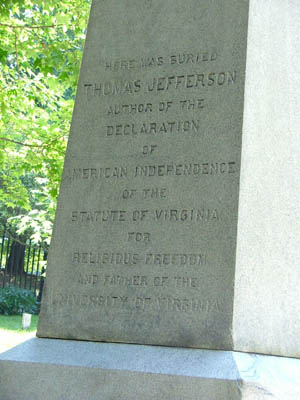 Here Was Buried
Thomas Jefferson
Author of the
Declaration
of
American Independence
of the
Statute of Virginia
for
Religious Freedom
and Father of the
University of Virginia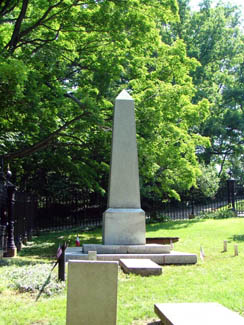 Thomas Jefferson
Born April 2, 1743 O. S.
Died July 4, 1826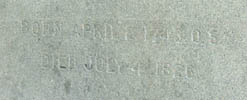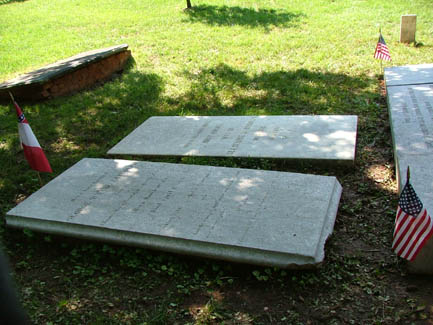 Here Lies Buried
George Wythe Randolph
Son of Thomas Mann Randolph & Martha Jefferson
Born March 10, 1818
Died April 3, 1867
Mary Adams,
Wife of Gen. George W. Randolph
Born 1830
Died 1871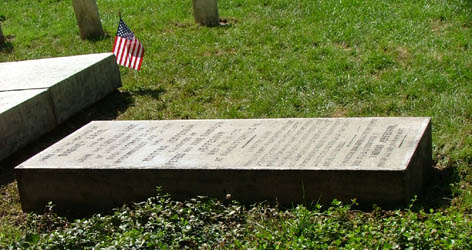 Here lie the remains of
Dabney Carr
Son of John & Barbara Carr
of Louisa County, VA
Born October 26, 1743
Intermarried on July 20, 1765 with Martha Jefferson,
Daughter of Peter & Jane Randolph Jefferson
Died May 16, 1773
at Charlottesville, Virginia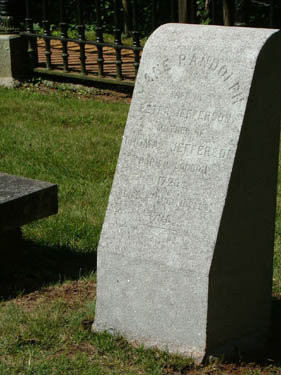 Jane Randolph
Wife of Peter Jefferson
Mother of Thomas Jefferson
Born in London
1720
Died at Monticello
1776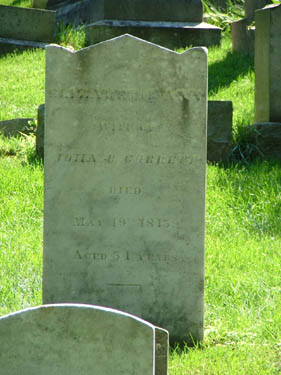 Elizabeth Ann
Wife of John B. Garrett
Died May 19th, 1845
Aged 34 Years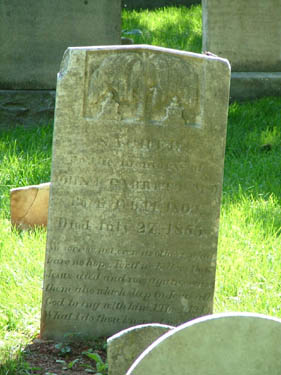 John B. Garrett
February 14, 1809
July 27, 1855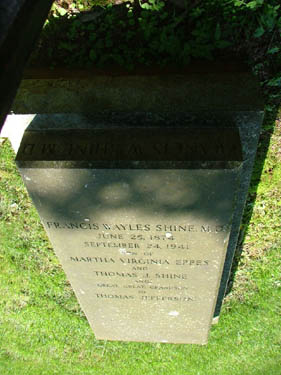 Francis Wayles Shine, M. D.
June 25, 1874
September 24, 1941
Son of Martha Virginia Eppes
and Thomas J. Shine
Great Great Grandson of
Thomas Jefferson
They were lovely in their lives
Thomas Jefferson Randolph & Jane Hollins Nicholas Married March 7, 1815
He was the son of Thomas Mann Randolph & Martha Jefferson and the grandson of Thomas Jefferson. She was the daughter of Wilson Cary Nicholas & Margaret Smith. She was born January 16, 1798 and died January 18, 1871.