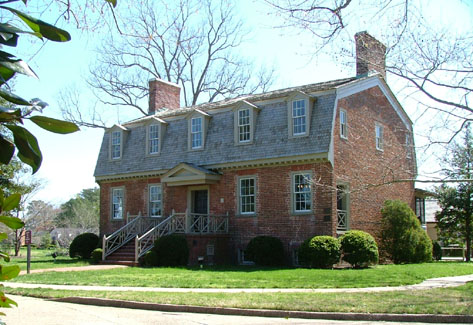 Francis Land House
Virginia Beach (formerly Princess Anne County) VA

This 200 year old home sits in the midst of a highly commercialized area of Virginia Beach Boulevard. The City of Virginia Beach is the current owner / custodian of the plantation house which is tastefully furnished in period antiques. The city purchased the historical structure in 1975 and has maintained museum operations since 1986. Open free of charge to the public, the site sponsors guided tours, special events and programs.
The Francis Land House is thought to have been built about 1804. The roof of this Georgian-style brick home was raised 12 inches in a 1912 renovation. The house has recently added a walkway to what was once its Atlantic Ocean access. It's staff maintains a period vegetable garden on the beautifully manicured grounds, which includes an asparagus bud, flax garden, herb garden and a "pleasure garden". The Land house is a popular school field trip site for the myriad of elementary schools in modern day Virginia Beach. Docents demonstrate for their youthful charges the time honored skills which kept the Land family in food and clothing. An interesting spinning wheel demonstration acclimates the children to the process from which fleece from the family's sheep became the family's clothing. Knowledgeable docents also educate the children on the practical uses of the wealth of natural resources that flourished in the location they now call home.
Six generations of the Francis Land family lived and worked in the coastal Virginia plantation home we now visit.