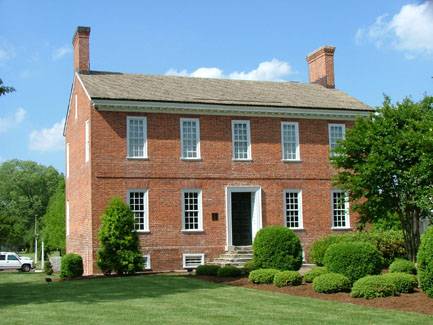 Pleasant Hall
Virginia Beach, VA
Old Princess Anne County
For centuries Pleasant Hall has reined over the heart of Kempsville. Sitting near the busy intersection of Princess Anne & Kempsville Roads, the beautiful structure has lived through change and survived to meet our new century. Currently owned by Kempsville Baptist Church, the structure's immediate previous use was as a funeral parlor. An addition was added to the east side to serve that commercial purpose. Pleasant Hall was built as a private residence by George Logan in 1769. The City of Virginia Beach's Historic Preservation department reports that "The Victory Ball for the Battle of Great Bridge was held in this building in 1775." The house sat very near the early Princess Anne Courthouse and a historical marker chronicles that story.
The Princess Anne County Courthouse was located 200 yards northeast of this point at the time of the signing of the Constitution of the United States of America in 1787. This marker erected by the Constitution's Celebration Commission of the City of Virginia Beach and the Princess Anne County - Virginia Beach Historical Society, September 17, 1987.